I've read with some amusement for the past day or so the growing discussion on industrial rebalancing. I never thought there would be such passion on the part of some players... for industrial ships. I mean, they serve a purpose that has nothing to do with how they look. Unlike combat pilots, I thought industrialists generally have little ego when it comes to what their ships look like. We just want to know two things: how much will it haul and can it reach it's destination intact.
But the debate over the looks of the Mammoth, that took me completely by surprise. I'm an industrialist and I'm like, "Who cares?" But people evidently do care. They care enough to have passionate opinions about it. Who knew?
And all this really begs a simple question. What should a space cargo ship look like? That's a good question. I'm pretty sure that's a matter of opinion and there are likely to be as many opinions as there are people willing to argue them. So to add a little context to the discussion, I decided to showcase some space cargo vessels from Science Fiction. That should at least give everyone an idea of what other's outside New Eden feel a space cargo vessel should look like.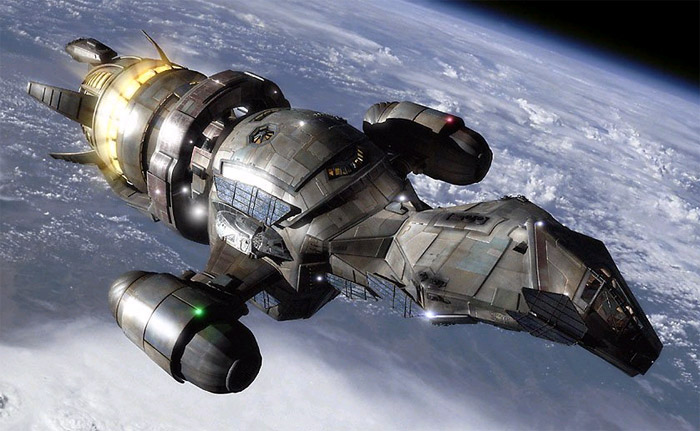 Allied Spacecraft Corporation Firefly Class Cargo Transport Serenity
Of course I have to start with this one. Is it pretty? No. Frankly it looks like a goose with a
rung
wrung neck (that's a broken neck for those not familiar with the term.) Some of the lines are pleasing, but overall Serenity looks like she's undergoing
gavage feeding
. It is not what most would consider beautiful. That's just my opinion mind you but I'm not alone in that opinion. Here's what the
scrapper boss had to say
when Saffron betrayed Mal and almost got Serenity destroyed (emphasis mine,)
"This is why you'll never be in charge, Bree. You don't see the whole. The parts are crap, but you put it together you got a Firefly. Thing'll run forever they got a mechanic even half awake... Some people ain't lookin' for flash. She's a good catch."
Jupiter Mining Corporation Mining Ship Red Dwarf
Okay, technically this isn't strictly a cargo vessel. But it does haul things and as such I am including it. This is a ship I need say nothing about. It was
said on the show
far better than I could put it (emphasis mine,)
KRYTEN: Sirs, please, there's no advantage in finger-pointing. We didn't
lose Red Dwarf. Red Dwarf was stolen. By persons... or life forms
unknown.
CAT: Who would steal a gigantic red trash can with no brakes and three
million years on the clock?
Corellian Engineering Corporation Light Freighter Millenium Falcon
Once again, what further evidence of ugly do you need than this scene from the
script of Star Wars: A New Hope
(emphasis mine,)
INTERIOR: MOS EISLEY SPACEPORT -- DOCKING BAY 94
Chewbacca leads the group into a giant dirt pit that is Docking
Bay 94. Resting in the middle of the huge hole is a large,
round, beat-up, pieced-together hunk of junk that could only
loosely be called a starship.
LUKE: What a piece of junk.
The tall figure of Han Solo comes down the boarding ramp.
HAN: She'll make point five beyond the speed of light. She may not
look like much, but she's got it where it counts, kid. I've added some
special modifications myself.
Luke scratches his head. It's obvious he isn't sure about
all this.
From these three examples of well known industrial ships, there are a few concepts that come through loud and clear: crap, trash and junk. Obviously that's what an industrial transport is supposed to be. And if that's what it is, that's what it should look like. Evidently ugly is in when you're a cargo ship. It would be a mammoth mistake to think otherwise. So what other examples of space cargo ships are there out on the interwebs?
Fly Careful