You've just had a rough day at work. There were far more demands on your time than minutes allowed. You moved from one crisis to another with no end in sight. To cap the day, your boss calls you in at 5 until 5. He says you aren't pulling your weight around the shop and he'd better see some improvements soon or he might have to let you go. You think,
fuck you
, and all you want is to get home and pop someone's pod.
You finally walk through the front door, throw your coat on the couch, grab a beer from the refrigerator and walk over to your PC and log in. You decide you need to check a couple blogs to catch up on what happened while you were gone from the game.
You open up your web browser, click on a bookmark you've used a hundred times before and suddenly your screen is covered in a warning that your PC might be at risk.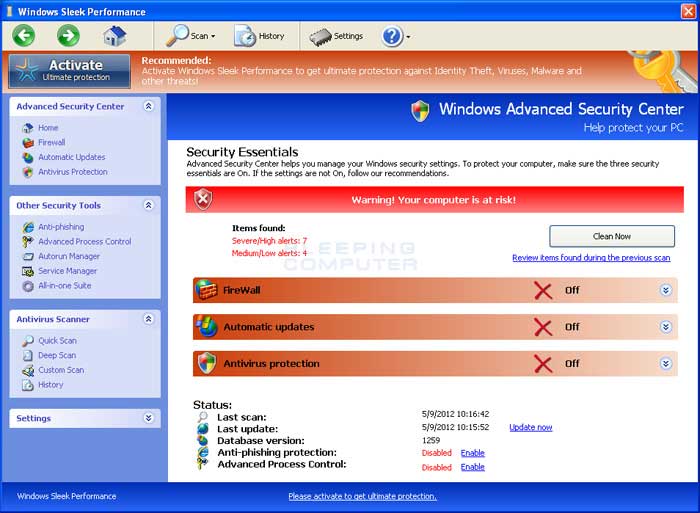 It looks legit. Security Essentials came with Windows 7. You breath a sigh of relief and click on the button labeled "clean now." Suddenly a download bar appears.
That shouldn't happen
, you think to yourself. Suddenly it dawns on you, you've been duped!
Frantically you push the power button and take your system down hard. You bring it back up, all the while hoping that you were fast enough. You log in and the first thing you see is a warning that says,
Warning
Firewall has blocked a program from accessing the Internet
C:\program files\internet explorer\iexplore.exeis suspected to have infected your PC.
This type of virus intercepts entered data and transmits them to a remote server.
You try and launch EvE. The launcher starts and then immediately shuts down. You try again. Same result. You get more warning messages. They look bogus but every time you try and start a program it immediately shuts down. You get an offer to purchase a program that will clean your system. It will only cost you $100. You know it's extortion but what can you do? The hacker has your EvE computer by the balls.
You pay the $100 and the messages are suddenly gone. You hope that it never happens again, but you are worried the hacker left his calling card on your computer. You call a friend who knows about these things. He says you've probably been left with a root kit. He says you've proven yourself a lucrative target - you paid - he'll be back. You say, "I guess I shouldn't have done that." He replies, "Derp."
This is a gank. How does it feel?
Fly careful.