So it is fairly obvious from the latest Blog Banter that no one wants to see PVP in EVE hampered. Even carebears feel it is a so inherent to the EVE experience that altering it would ruin the experience - even when it means so many of us suffer as clearly indicated by this graphic provided today.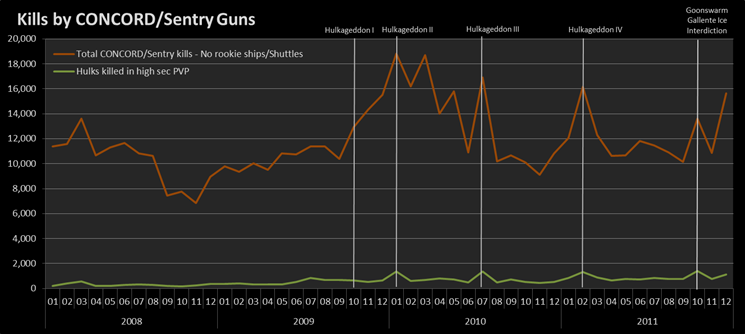 There is still some support for "protecting" new players among carebears. Perhaps that will come to pass one day; perhaps not. Only time will tell on that score. If it does come to pass, sagging subscriptions will likely have more to do with it than any other motivation.
As for older players like me, I don't think we should have any protection. The pirates are correct. When I undock that is my acknowledgement that I accept the risk. But what is the risk to the griefer? What is the downside for him or her? It isn't the security status they'll lose. If that was a deterrent we wouldn't have griefers at all. Most of them love their low security status an wear it like the badge of dishonor it is.
I've long wished there was some risk to those who prey on hi-sec carebears; some consequence for their actions. Today I was reading through the Hulkageddon V thread on
Failheap
and saw this post by Xiang Jiao,
"For an alliance like the goons, they would pretty much have to completely forsake their relationship with the people who organize Incursions, and I have a funny feeling that most players will want to be able to run Incursions again if ever they should happen to leave their current alliance one day. For example, my current corp, being sometime griefers, would never dream about pissing in the Incursion swimming pool since we use it as our primary source of income. It's like the one and only rule we impose."
Now that's how a deterrent works! It's risky for griefers to go after Incursion fleets. The consequences make them think about their future. That's what needs to happen all the time. Currently there are no serious drawbacks to griefing hi-sec carebears.
That
is the nature of the problem.
As an Industrialist, I know exactly how I'd like to make griefers think twice. I'd not do any business with them. Currently I can't do that. When I put my goods on the market anyone can buy them - even people I don't like. I want control of my own business. It's my right.
Perhaps CCP could give Industrialists the ability to deny a sale to any capsuleer, corporation or alliance in their contact list with a bad standing. That would give us a tool to start blacklisting griefers. If enough hi-sec carebears blacklist griefers, the griefers might actually start feeling a little pain for their anti-social behavior. Then they would have some risk analysis to do themselves. In a perfect system, the 'no sell' flag would carry through to subsequent trades as well. That way griefers couldn't use alts to buy their gear for them. The griefers would have to deal with their own thieving ilk. Shouldn't pirates have to use a black market anyway? Isn't that part of the romanticism of being Pirate? What would the Spanish Main have been without Tortuga?
I don't think I'm asking for too much. I just want the right to refuse service to anyone I've got a gripe against. There is no need for daddy Concord to do anything. Just let me handle it. But I need tools to do that and only CCP can hand those out. What do you say CCP? You're all into war these days. How about letting us wage a little industrial war against those that pod us for nothing more than giggles? Let us control who we sell to. Think about how the Goons' ice interdiction could have turned out if the ganked ice miners started denying sales to the Goons and their associates? Give us a little love and let us fight back our way.
Fly carefully.