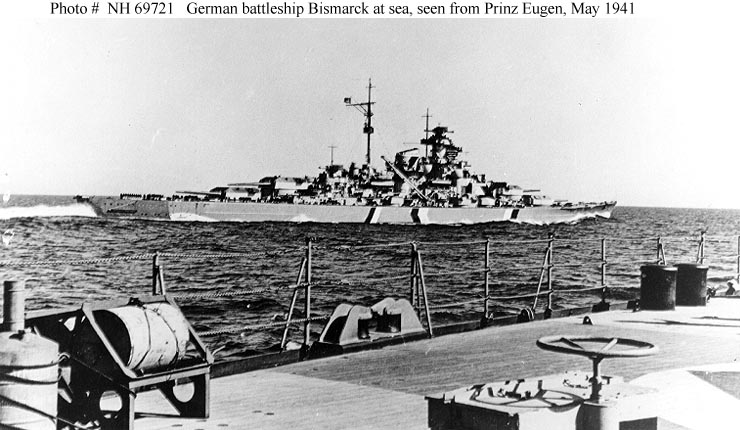 Speaking of unreal elements within Eve Online, another thing that has always broken my belief suspension is the manner in which ships take damage. I can't think of a single instance in real naval combat where a ship functioned perfectly right up to the moment it blew up (HMS Hood not withstanding.) The Bismarck, allegedly, never had its main armor belts pierced by the British. Salvo after salvo and torpedo after torpedo failed to sink the mighty Bismarck.The ship was, however, doomed by a "lucky" torpedo drop that damaged its rudder. The Germans had to scuttle it in the end.
In Eve, our ships go through three phases of damage - shields, armor and structure. Yet our heads up display functions perfectly up until the moment our pod pops out - and even after that. We have target locks until the bitter end. The computer connections between processor and display never fail. Hell, we can even warp out unless actively prevented no matter how much damage the ship's sustained. That's not very realistic. Why can't we have system failures as our armor gets blown off bit by bit?
It certainly would add an interesting bit of realism to the 1x1 PvPs where the victor limps away with 10% structure. Wouldn't it be exciting if his tactical display went out half way through the fight and he had no idea if the pilot he'd just vanquished had friends on the way? What if his navigation computer was knocked offline and he had no idea where the gate or nearest station was? The Bismarck had no choice but to make straight (pun intended) for Brest though every bit of armament on that battle-wagon still functioned perfectly.

Why doesn't this happen in EVE? It would make everyone think twice about attacking someone else. If there was a risk that they might not get home with their loot, even if they were successful, would they still choose to engage? Sure, pilots can overheat modules risking a burnout but the pilot chooses to overheat. He accepts the risk. What if the risk was there whether she wanted it or not? Would that not be more real?
This would revolutionize game play in a way that more cap and less mass ever will. What's the real difference between an armor and a shield tank? One melts fast early and one melts fast later. That's all, a big fat nothing in reality terms. Sure, shields regenerate on their own and armor doesn't but BFD. Armor tanks get extra allotments for armor repairers. Their designed for it. Now, if damage to armor and structure cause component failures the whole game changes.
Shield tanks might have less of a chance of loosing components so long as their buffer holds. This makes them superior early in a fight. However, once they dip into armor the failures come fast and furious. Armor tanks may loose components relatively early in the fight, but not at as high a rate as shield tanks and probably not the most critical systems. Also, armor reppers could have a chance of repairing a damaged component. It'd change the basic nature of both tank types in ways that would make combat more real. Shield tanks would have to have hull reppers for battlefield repairs. Some damage should only be repairable by hull reppers regardless of tank. The useless becomes useful if properly employed. Hull reppers might be the difference in a fleet staying in space and winning the day...
...or limping back to space dock with their slagged components between their legs.
Regardless of how it's done, there will be an emotional satisfaction that can only come from believing you were in a real spaceship with real problems to solve. There would be no "best" fit. Every situation would dictate whether your fit passes muster or not. Chance would ensure your honesty. Even the baddest ass Super-Cap fleet could succumb to fate. Even a Titan could lose it's ability to maneuver and wouldn't that be something?
Eve must become more real to survive. They need to not only scrub the art and the mechanics of space travel, CCP also needs to add Murphy back into the game. No fleet fight should ever be a sure thing. No POS bash should ever be a simple matter of calculator and timing. No 1x1 should ever be predictable regardless of what is flown or the experience of the pilot. It's easy for a pilot to know his ship's capabilities. It's real when she doesn't know if those capabilities will be there when she needs them most.

Lastly, with Murphy back in the game, nerfs become unnecessary except in the most extreme cases. Balance is achieved through fate, not programming. Nerfs are like scientific discoveries. For every question answered, two more arise. For every ship balanced, another takes its place. Drake fleets, HAC gangs, Super-cap fleets, Dramiels and the list goes on and on and never ends. Next up are the tier 3 battle-cruisers. That's cool, but it's not the answer CCP. Eve needs a real element of chance.
What do you think could be done to make Eve combat more real?
Fly Careful.